Door number 23! The penultimate door! Tomorrow is the day and a big surprise awaits us. But in order to cope with it, we need some refreshment. Jeannine's favourite biscuits. Or was it Tom's? Doesn't matter! Jeannine baked them for us and is happy to share the recipe with you! Because whoever shares has double the joy. And then we're back to the topic again: why not give away a bag of home-baked biscuits? This is your way of telling the recipient: You are not alone!
And now have fun smooching fairies, …, baking biscuits!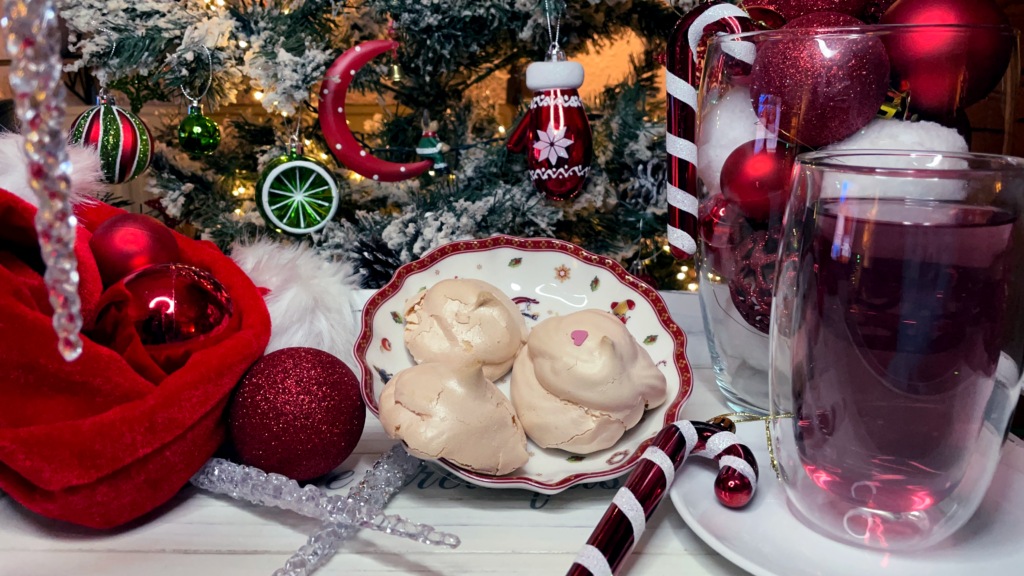 Fairy Kisses ingredients:
For the dough:
160 g flour
60 g icing sugar
1 pinch of salt
100 g butter
2 eggs
Also:
3 pck. Toffifee (45 pcs.)
1 pinch of salt
140 g icing sugar
1 egg white
Progress :
Mix the flour with the icing sugar and salt in a bowl. Separate the eggs. Set aside the egg whites for the meringue, add the egg yolks and butter to the remaining ingredients. Quickly knead everything with your hands into a smooth dough. Shape the dough into a roll, the diameter of which should be as large as a Toffifee. Wrap in plastic wrap and chill for 1 hour.
Preheat the oven to 160 degrees (fan oven: 140 degrees). Cover the baking tray with baking paper. Cut the dough roll into thin slices and place on the baking tray. Place one Toffifee upside down on each.
For the meringue, start beating the egg whites set aside and another egg white in a bowl until stiff. Add the salt and sugar and beat for 4-5 minutes until firm. Fill into a piping bag with a thin hole nozzle and cover the Toffifee from the bottom to the top with the meringue. Bake the fairy kisses for approx. 18 minutes. Cool completely.