Luxembourg at the World Fetish Show Contest 2021
The Eurovision Song Contest. Who doesn't know it? The ESC, the biggest musical event that attracts millions of viewers every year in front of their screens in their living rooms, in their favourite pubs or at private Eurovision Song Parties. Well, at least that was the case before Corona. This year, we will probably have to make do with the living room at home once again. This year's ESC will take place on 22 May and will be broadcast live from Rotterdam.
But already one week before, on 15 May at 9 pm, another event will take place that is in no way inferior to the ESC. This is the WFSC, the World Fetish Show Contest. This show will also make every queer heart beat faster.
For Luxembourg, the reigning Mr. Bear Paul Feitler will take part. His entry was produced in collaboration with members of the local community and Rosa Lëtzebuerg.
What is it about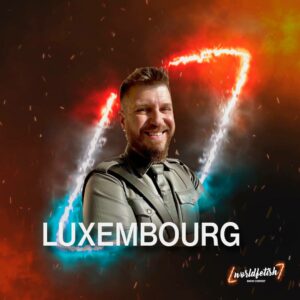 Like the ESC, this is an international competition. Each country presents an artist, a performer or a group. The rules are simple: a Eurovision song performed for their country is to be reinterpreted. In addition to the artistic aspect, however, the focus is on the respective fetish. Everything is allowed: travesty artists perform next to leather guys, puppies compete with bears, rubbermen meet bondage masters and much more. There are no limits to the imagination! It should be colourful. Fresh and cheeky. The performances should spread fun and joy. But above all, they should always be high-quality performances. They can be sung live, re-synchronised, a parody of a song can be performed, or even a song can be presented in a completely new, different way. The fetish and the artistic performances are decisive.
As with the ESC, each participating country provides a jury. The jury is made up of representatives of various fetish groups, as well as artists or ESC fans and connoisseurs. Also at the World Fetish Show Contest '21, up to a maximum of 12 points will be awarded, whereby the jury may never evaluate the artists from their own country.
In the same way, every viewer can vote live for their favourite via the "Telegram" app. Here again, the same rule applies: the performance from one's own country cannot receive a viewer vote.
Finally, the jury's votes will be added to the audience's votes to determine the winner.
The World Fetish Show Contest '21 is taking place for the second time this year. Last year it was created by the Spanish Leather & Fetish Community (SLFC) during and because of the first big Lockdowhn. It was an online event that was broadcast live via You Tube and Facebook. It was supposed to be an event where fetish friends and people interested in fetish could get closer to each other despite social distancing. And this was absolutely successful! It was a great show, and this second edition promises to top it!
It is already known that 25 countries will participate, including Luxembourg. The order of the individual performances is as follows:
1 Hungary 🇭🇺
2 Portugal 🇵🇹
3 Belgium 🇧🇪
4 Sweden 🇸🇪
5 Finland 🇫🇮
6 Greece 🇬🇷
7 Andorra 🇦🇩
8 United Kingdom 🇬🇧
9 Luxembourg 🇱🇺
10 Ireland 🇮🇪
11 Spain 🇪🇸
12 Denmark 🇩🇰
13 Israel 🇮🇱
14 Austria 🇦🇹
15 Australia 🇦🇺
16 Italy 🇮🇹
17 Switzerland 🇨🇭
18 Germany 🇩🇪
19 Ukraine 🇺🇦
20 France 🇫🇷
21 Russia 🇷🇺
22 Norway 🇳🇴
23 Poland 🇵🇱
24 The Netherlands 🇳🇱
25 Bulgaria 🇧🇬
This year the show will be broadcast live again via You Tube and Facebook. The link will be announced on 14 May. The link to the Telegram voting will be published the night before the show.
In any case, no one should miss this unique event!
Details:
When: Saturday, 15 May from 9 pm
Where: Facebook Event